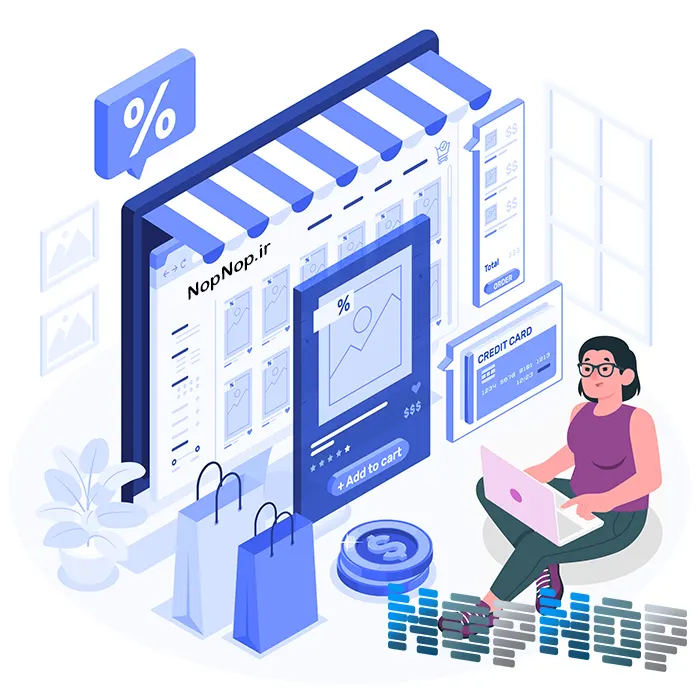 One of the main pillars for website designers is choosing a template. Choosing the right template, in addition to creating a better experience for site visitors, has a big impact on SEO and increases site visits for you.
The better template you have for your online store, the more visitors your website will get. Many features and functions can be inherently defined on a model. So that you no longer need to install plug-ins to perform a number of features.
In each of the formats that you see for different CMSs like Nopcommerce or even WordPress, a set of unique intelligences have usually been observed. Each format has advantages and disadvantages compared to other formats, and it is your duty to find the format you want based on the criteria and importance of each of these elements.
Please note that no template or plugin is perfect for use on your site and if you plan to have a template with all the features you want; You must exclusively produce this model.
In the case of big stores, such as popular shopping sites, these sites spend hundreds of millions on their content format. But keep in mind that at the very beginning of the work, none of these shops paid such a commission for their site.
In fact, if you want to have an up-to-date store, you always have to pay for its updates. Just like a shop that rents its property monthly.
The costs of an online store include the following:
Content production and SEO
SEO consultancy
Hosting and domain costs
The cost of the programmer
The cost to purchase a plugin, template, or source code
In this section of the NopNop site, we will only talk about the last thing, which is buying plugins and templates. The first thing that might occupy your mind is how much the model in question costs.
Or this question may occupy your mind, isn't it more convenient and cheaper to prepare a free model than a non-free model?
Use free templates
There are many criteria for choosing a site template, and perhaps the most important principle for you is its cost versus the features available in a template. There are many free CMS templates like Nopcommerce.
Many people think that free templates have fewer features than non-free templates or that non-free templates are better than free templates. In fact, this is a misconception.
In many cases, you see sites offering content to their customers using free templates. As mentioned above, you can see the strengths and weaknesses of all formats, both free and not.
As for the free templates, you can start your business and launch your website by paying less. So picking a free template that meets your criteria might be better than buying one.
The most important point of this discussion is that you may wonder if non-free templates can be used for free. Here we try to share some of our experiences for people who have these questions.
Have you ever wondered why a person or business would buy a file and give it to you for free?
A company that intends to buy models and provide them free to its customers is losing more than it is profitable, and if it continues its policy, it will certainly not be able to continue operating one day.
Therefore, some foreign sites may offer you non-free templates for free. In this case, you will get malware by installing these templates on your website.
If so, your least concern should be that your online store is not secure and that there might be security holes. In some cases, the attacks are carried out by bots, their origin may be your site.
This means that in the future you will be recognized as the culprit in this matter, and even legal problems may arise for you.
Identifying malicious code in other CMS is much easier, but in the case of Nopcommerce CMS, it can be very difficult to determine if a template is malicious or not due to the existing file structure.
Because in Nopcommerce the files and all the code are compiled and modified before being executed. This is one of the reasons that increases the security of nopcommerce compared to other existing CMS.
Also, if you can restore the model to its original state and translate its interpreted codes, you will still need a professional programmer to identify the malicious codes and remove them.
To never face these problems, we recommend that you get your templates from reputable sources. As for the free templates, always try to get the templates from the provider's official website so that you don't have any problems in the future.
On the NopNop site, we have tried to insert a Hash algorithm for all downloadable files so that we can guarantee the security of the file and its perfection.